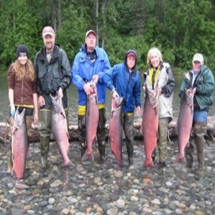 CATCH AND KEEP KING SALMON.
JUST 30-90 MINUTES NORTH OF ANCHORAGE, ALASKA.  WE HAVE BEEN VOTED MAT-SU VALLEY'S BEST FISHING CHARTER 20 TIMES SINCE 2000!
Alaska King Salmon (also known as Chinook salmon) begin their Alaska journey from the Pacific Ocean to their individual spawning waters on Alaska's Little Susitna River, Deshka River and Talkeetna River in the Mat-Su Valley. The king salmon first enter the Little Susitna River and Deshka River in mid May, and the Talkeetna River in mid June.  On Alaska's Matanuska-Susitna Valley Rivers, the mighty Chinook king salmon size ranges from 15 to 65 pounds in size.
With the low and clear water conditions on Mat Su Alaska's Knik River, we began fishing and landed our first Alaska king salmon of 2022 on May 19. The largest fish we boated in 2022 was a monster Alaska king salmon caught on the Knik River, weighing in at 38 pounds.  We continued fishing the Knik River, reaching a solid 70% success rate of kings until the end of Alaska King Salmon Season.
The final Alaska king salmon count on the Deshka River was over 10,000 King Salmon.
As for the king salmon runs in the 2023 fishing season, AK Fish and Game biologists are predicting a decent run of king salmon, thus presenting Alaska Fisherman's Choice Charters with countless satisfied anglers!
MAKE YOUR FISHERMAN'S CHOICE ALASKA SALMON FISHING CHARTER RESERVATIONS EARLY TO BE SURE THE DAYS YOU WANT ARE AVAILABLE!