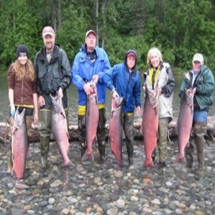 Beginning in  Mid-June we usually start fishing for King Salmon on Alaska's Talkeetna River as soon as the King Salmon run gets strong. As the days progress, we would also start picking up Sockeye Salmon, Silver Salmon and Chum Salmon along with the Kings.  WE HAVE BEEN VOTED MAT-SU VALLEY'S BEST FISHING CHARTER 17 TIMES SINCE 2000!
Alaska's Talkeetna River is located a little more than 2 hours north of Anchorage in the town of Talkeetna. At the mouth of Clear Creek, just off the Talkeetna River north of Anchorage, the King Salmon and Rainbow Trout fishing is second to none, and the drive is breathtaking! On a clear day you can see the most incredible view of Mt. McKinley just outside of town as well as on the river.
The Talkeetna River, in the past, has had one of the strongest runs of all 5 species of salmon. The Talkeetna River is also famous for its abundance of trophy-size Rainbows, Dolly Varden, and Arctic Grayling! Both the Deshka River and Talkeetna River are tributaries of the Big Susitna River which hosts the second largest run of migrating fish in the world.
As with the Deshka River and Little Susitna River, the Talkeetna River has a campground located near the launch. There are also great hotels, cabins and B & B's within driving distance of both the towns of Talkeetna and Wasilla. Just let us know and we will be happy to assist you in finding appropriate accommodations if needed.
Unfortunately there is no count taken on the Talkeetna River. However, there was a fair run of Alaska King Salmon. The Chum Salmon and Pink Salmon came in in large numbers, as usual, and though not the best eating fish, they are super fun to fight.
Alaska Dept. of Fish & Game also counted 76,031 Alaska Sockeye Salmon (Red Salmon) at the weir site on Fish Creek near Anchorage and Wasilla, Alaska. They also counted, in Fish Creek, 3,158 Alaska Coho Salmon (Silver Salmon).
As for the Alaska Salmon runs in the 2023 fishing season, they're predicting another poor year of Alaska King Salmon, due to poor management by the State, a good/great run of Alaska Silver Salmon and Alaska Sockeye Salmon.